Review: Zeki Gets a Checkup by Anna McQuinn, illustrated by Ruth Hearson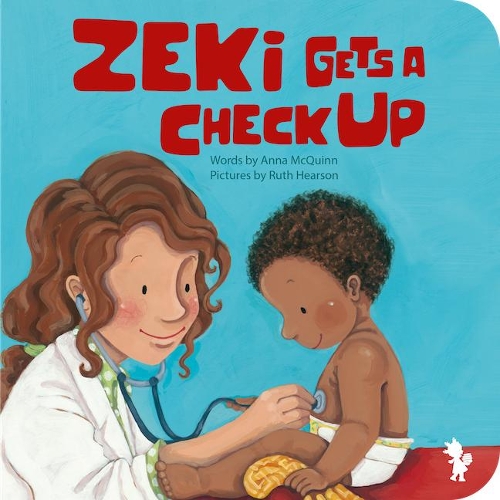 Confident little Zeki is growing up fast! Now a toddler, he can drink, eat and play all by himself so it's time for another adventure: a trip to the doctor for a checkup.
This comforting picture book from the Zeki Books series was originally published in 2018. It's been given a fresh new look by publisher AlannaMax, with an updated cover, rounded corners and flexible yet sturdy pages, ideal for tiny hands and mouths.
Created by expert duo, Anna McQuinn and Ruth Hearson, this special book describes the various milestones that are assessed during a toddler's developmental health check. From social interaction to measurements, eye tests to jabs, everything is covered, step by step, to help infants and their parents/carers prepare for this significant event.
Zeki, short for Ezekiel, is the younger brother of Lulu from the Booky Girl Lulu series, and both children are part of a loving Black family of four with Tanzanian origins.
At the start of the book, very early readers will identify with Zeki in his familiar home setting, enjoying his normal morning routine and showing all the things he can do. As his parents gently get him ready him for his outing, we gradually transition to the unfamiliar doctor's surgery, and clever Zeki brings along his trusty transitional objects — his cuddly Mister Seahorse and soothing blankie — to help him to settle quickly.
I love how the design of Zeki's yellow blankie, with its African-inspired print, fills the book's front and back endpapers as if to give him a metaphorical hug, enhancing the feeling of safety and security.
In fact, fabric design is a feature throughout with strong repeating patterns of vertical stripes and polka dots incorporated naturally within the clothes and objects in every page spread. Pointing out these simple patterns to older toddlers, eg 'red [stripe] and yellow [stripe]', will foster their awareness of changes and their ability to make predictions, laying the foundations of mathematical thinking.
McQuinn, through her clear, well-considered text, narrates not only the delightful sequence of events during Zeki's day, but also offers adults subtle suggestions for targeted praise, to boost children's confidence and motivation when completing tasks.
Hearson's gorgeous illustrations help to reframe traditionally-held gender roles. Like many 21st-century fathers, Daddy actively shares in Zeki's care as it's he, not Mum, who takes him to the clinic. This thread runs through to the wonderful multi-ethnic waiting-room scene, where another dad is present. As well as this, we have a female GP, and I also loved how public breastfeeding is depicted proudly — a refreshing and important inclusion.
Her depiction of five children in the waiting-room scene celebrates diversity, not only in terms of ethnicity, but also the stages of child development, from a dependent, suckling newborn to a toddler standing independently and exploring an activity table on her own.
Supremely more than what initially meets the eye, this deeply thoughtful, reassuring picture book is a must for sharing with our littlest readers. Whether at home, nursery or a healthcare setting, young children will love seeing adorable Zeki's successful experiences in readiness for their own exciting occasions out in the big, wide world.
Zeki Gets a Checkup, written by Anna McQuinn and illustrated by Ruth Hearson, is one of five books in the Zeki Books series. You can read my review of Zeki Loves Mummy here and you can purchase all five books from Bookshop.
Check out my Black Children's Books directory for suggested suitability of all the books I review. All the books that I read are also checked against my Jericho Benchmark.